The other day, one of my co-workers brought this sweets to our office.
They were so cute!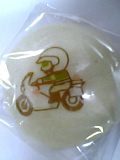 She and her boyfriend bought these "omanjyu" in Tochigi Pref.
There's a special training school for motorcycle policemen there,
and that's why a motorcycle policeman was drawn on omanjyu.
Here's another one.Expo 2005 in Aichi has ended the other day.
This was the trademark of it, Morizo & Kikkoro.

But a friend of mine showed me the other one.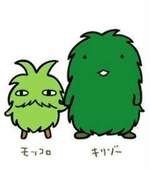 Can you see the difference?
We all laughed so hard!So cute and funny!!